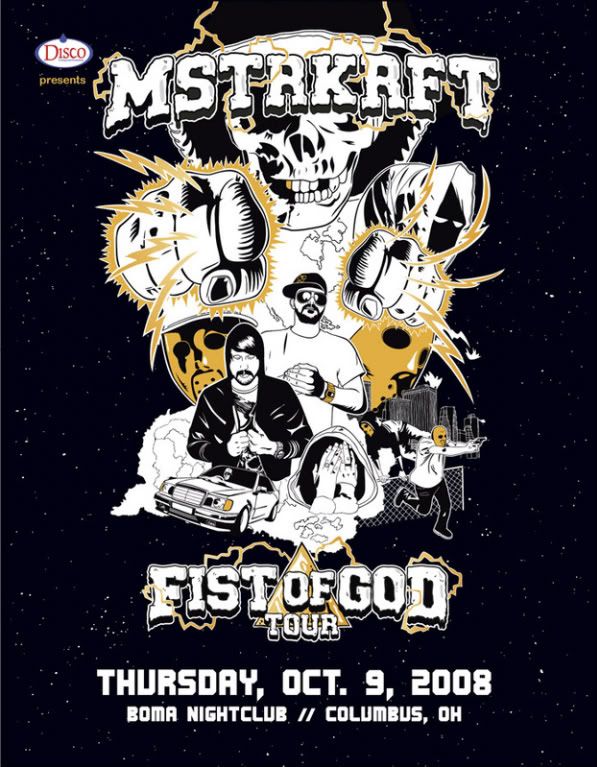 So.....Last night was EPIC. Camera died RIGHT when I decided to not give a fuck and bumrush the stage. Between Moxy and Nic having me drink up in the VIP and watch the chaos unravel, and me, Garrett and the boys bumrushing the stage.... fuck, just EVERY single part of the night, my mind was BLOWN.
Met the man the myth the legend himself, Mr. Disco Donnie. I admire dude. He got MSTRKRFT and Aoki here, true. The real reason lies in the fact that he's an old raver kid like me. We had a small chat but I hope to pick his brain for old NOLA rave war stories, p.l.u.r stories? Ha.
Working for My Best Friend's Party was a riot too, I passed out a bunch of Fools Gold and Iheartcomix mixtapes, t shirts and other merch to the youth dem who came in droves EARLY(Like 9 oclock.,I miss my all age shows when I did the same:), they were all respectful little future hipsters. They had no control of the dancefloor though. The old guard was out in serious numbers. Not gonna drop all the names of alll the homies I saw but HUGE UPS to everyone who came out! Pics up soon!