The Suicide Girls of Cbus are mobbin' Havana tonight and my homeskillet/homeslice Moxy is providing the tunes so I am in like Errol Flynn. Cheap drinks, gay bar atmosphere and gorgeous girls covered in tattoos. Cant lose.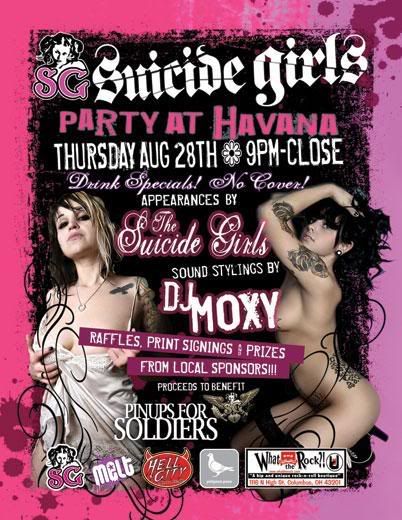 The Suicide girls phenom got me thinking on my own childhood relationship with suicide. Through the swagger of big bad S.T... Suicidal Tendencies. A punk rock gang among others that swirled around in the very same cesspool I grew up in, L.A. County(2 Tone/Trojan skins salute dem. L.A.D.S-Hollywood and South Side clicks/Peace Punx/Posers/O.C. Skins/S.H.A.R.P/FFF/W.A.R/Pen1/Stoner13...Fuck MOST of you though, especially you boneheads and 'wood gangs) . Yeah, ya dun know. My childhood was gangbangin'tastic, even the punx had gangs.
S.T. took an extra inch and just cholo'd the fuck out. Blue flannels with just the top buttoned up, creased dickies, HOUSE SHOES. Loved em. I had ese homies from various clicas growin' up, my first crush even, was on a girl a couple years older than me from South Central's Florencia 13. Cholo art and L.A. 'bangin' handstyles are really where it's at VATO and Sui did it real big. Wish i had one of their "placas" tees on right now. My homie Billy D Parker(Santa Monica O.G. S.T.) is doing a doc on L.A. punk gangs and I hope he'll let me be the narrator. PROPER.

And another highlight in suicide history, 1 800 Suicide from The Gravediggaz. I was 17, banged out in high school, on interstate juvy parole and had a 22 year old girlfriend when it came out. Had that fuckin' c.d. on HEAVY rotation! Redman's Dare Iz A Darkside, THUG LIFE, Damu Ridas and the first Bangin On Wax got major play too. Su whoop.
"Pledge your allegiance! Suicidal, suicidal, suicidal.." "Suicide, it's your suicide...."(anyone sense a mash up of ungodly proportions?!)*wiv a bunch of Suicide Girls in the ungodly video. PROPER.